The Book Club
You Are Not a Gadget:  A Manifesto
By Jaron Lanier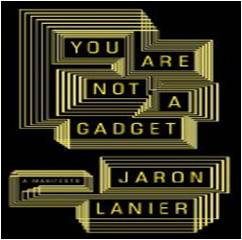 Ten years ago Jaron Lanier published an article in Wired called "One-Half of a Manifesto," his dissent from the ruling dogma of the digital revolution.  Now he's out with a book, a full-blown manifesto, titled You Are Not a Gadget.  Here's how he begins:
Something started to go wrong with the digital revolution around the turn of the twenty-first century.  The World Wide Web was flooded by a torrent of petty designs sometimes called web 2.0.  This ideology promotes radical freedom on the surface of the web, but that freedom, ironically, is more for machines than people.
Lanier says that he's been called a Luddite by friends.  That's understandable—he's challenging some rather entrenched orthodoxies—but it's hard to take the charge seriously.  Lanier is a computer scientist holding prestigious positions at Microsoft and at Berkeley.  He was a pioneer of the computer revolution.  He is the father of virtual reality.  His critique is not the work of a crank on the outside with a skewed view of the world of technology.  He's been inside that world, leading the way and breaking new ground.  He's a visionary who sees great promise for the future, but he's concerned about where things are headed.
Lanier writes about technology, but his major concerns are culture and individuality.  Culture he sees as becoming more bland and more nostalgic than creative, and individuality as threatened while the culture places increasing value on the crowd rather than the person.  Lanier illustrates his case with examples.  Among his favorite targets are Wikipedia, Facebook, and Twitter, each useful its own way but whose value is not cost-free.  The standardized nature of what they offer is limiting to the freedom of human expression.  Lanier, I have to say, makes a compelling argument. 
Lanier discusses the rise of bloggers and the decline of journalism, and he's (rightly) concerned about what it would be like in a world without newspapers.  His defense of the papers, however, seems off-base.  It's true the papers are under assault from forces beyond their control, but they are hardly without blame.  Bad journalism is bad journalism, in examples he cites (missing the story in the runup to the Iraq War and the recent economic implosion), and that's not the fault of technology or bloggers.
Overall, though, I think Lanier is on the right track with much of his criticism.  He's not a pessimist, by any means, and he offers his own vision of an alternative, better future.  He covers a lot of territory, and the book will give anyone who reads it lots to think about.
I'll resist the urge to quote whole chapters, but since this is a site about movies (mostly), I will give you a taste of Lanier's ideas about a threat to the culture, and how it may affect the future of cinema.
If you want to know what's really going on in a society or ideology, follow the money.  If money is flowing to advertising instead of musicians, journalists, and artists, then a society is more concerned with manipulation than truth or beauty.  If content is worthless, then people will start to become empty-headed and contentless.

The combination of hive mind and advertising has resulted in a new kind of social contract.  The basic idea of this contract is that authors, journalists, musicians, and artists are encouraged to treat the fruits of their intellects and imaginations as fragments to be given without pay to the hive mind.  Reciprocity takes the form of self-promotion.  Culture is to become precisely nothing but advertising.

…we are in a transitional period…

It is my hope that book publishing will continue renumeratively into the digital realm.  But that will only happen if digital designs evolve to make it possible.  As things stand, books will be vastly devalued as soon as large numbers of people start reading from an electronic device.

The same is true for movies.  Right now, there are still plenty of people in the habit of buying movies on disk, and of going out to movie theaters.  This is the way culture works these days.  You have to deliver it through some kind of proprietary hardware, like a theater or a paper book, in order to charge for it.

This is not a sustainable solution.  The younger you are, the more likely you are to grab a movie for free over the net instead of buying a disk.  As for theaters, I wish them a long, healthy continued life, but imagine a world in which a superb fifty-dollar projector can be set up anywhere, in the woods or at the beach, and generate as good an experience.  That is the world we will live in within a decade.  Once file sharing shrinks Hollywood as it is now shrinking the music companies, the option of selling a script for enough money to make a living will be gone.
Postscript:  I'll just add an update with some of my thoughts.  I tend to be skeptical when I hear forecasts of doom and gloom in the movie business.  The end of Hollywood has been predicted before, e.g., with the advent of television, then VCRs.  Hollywood tends to adapt.  The movie business survives.  It will continue on now.  I don't know how the digital revolution will ultimately affect the movie business, but it will have an effect.  The new technologies provide cheap tools to anyone who wants to make a movie, which ought to have some impact on movies that are made.  So far, you wouldn't know it by what's playing at theaters.  YouTube is democratic, but it doesn't compare with established moviemaking (and mashups, as Lanier argues, is not what the revolution was supposed to be all about), and it doesn't have a sustainable economic model.  My concern about movies is not that the they'll go out of business, but about the kind of movies that get made, and especially, the kind of movies that don't.  All is not well in Tinseltown (or wherever movies are made these days), but that's a subject for another day.